welcome to Las Clinicas del Norte!
Las Clinicas del Norte (LCDN) is a federally designated Frontier Community Health Center, and provides services to the approximately 14,720 residents of its service area, covering 2,500 square miles in parts of Rio Arriba and Taos Counties, both of which have been designated Medically Underserved Areas (MUAs). The LCDN service area is a frontier region, with low population density (4.2 persons/square mile), with widely scattered villages and small towns. Las Clinicas del Norte is the only provider of primary care, oral health care, and behavioral health services in its service area. The area is extremely rural and mountainous, with winters that sometimes make travel hazardous.
Our vision is to provide culturally competent care to the underserved and medically indigent patients in a remote part of northern New Mexico. LCDN operates three clinic sites, in Ojo Caliente, Abiquiu, and Ojo Caliente, all strategically located to provide maximum access to the area's rural residents. LCDN also operates school-based health centers in Abiquiu, 2 in the Mesa Vista School District at El Rito and near Ojo Caliente, and in Pojoaque, NM, a rural community 20 miles north of Santa Fe, adjacent to Pojoaque Pueblo.
about us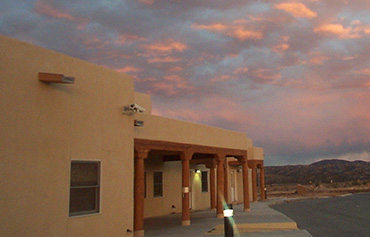 Mission Statement
Las Clinicas Del Norte exists to promote healthy communities with a proactive approach to individual and community health. Our focus shall be to provide comprehensive preventative and primary health care services that are accessible, affordable, culturally sensitive and compassionate.
our history
Las Clinicas del Norte (LCDN) was established. It was first known as the El Rito Betterment Association.
LCDN opened its first clinic in El Rito in June 1973.
A new clinic location is opened in Ojo Caliente.
The Abiquiu clinic location is opened.
El Rito Betterment Association name was changed to Las Clinicas del Norte.
New expanded El Rito clinic is opened.
Our first school based clinic is opened at Mesa Vista High School.
The second school based clinic is opened at Pojoaque Valley High School and the Ojo Caliente clinic moves to a new building next to the post office.
The Abiquiu clinic moves to a new building by the Abiquiu Inn.
Employment Application Form
Fax resume and employment application to HR Dept. (575) 581-0030 or send to HR@lcdn.org
job openings
Director of Medical Programs
Las Clinicas del Norte is seeking a Director of Medical Programs for its 3 community sites & two school based programs. Responsible for: Risk Management, Quality Assurance/Quality Improvement, All NMDOH Programs & Federal 330 primary care program requirements, recruitment, supervision & evaluation of all medical support staff & Promotoras; reports monthly to Board of Directors on clinic's QA/QI projects. Requirements: RN, BA, MSN or MA in health care management, public health, or related fields with 5 or more yrs experience in administrative duties in an FQHC clinic. Bilingual preferred. EOE.
Medical Assistant (Floater)
Las Clinicas del Norte is looking for 1 full time Medical Assistant (clinic floater) to work at all LCDN Clinic sites as needed. Must be able to work independently, have good organizational, communication & computer skills. Will be assisting with patient care management. Must have at least five years of medical assisting experience. Bilingual preferred. Deadline for submitting applications is August 1, 2017.
Las Clinicas del Norte has a position open for a Certified Pharmacy Technician or an experienced pharmacy technician who is willing to obtain certification to work at our Ojo Caliente Clinic. Position requirement: Bilingual (English/Spanish), mature, self-motivated, organized, detail oriented individual with excellent computer & mathematic skills. Some travel may be required between clinic sites. For further information, contact the HR Dept at (575) 581-4728. Deadline for submitting applications is August 1st. EOE